WHAT IS A MUD?
MUDs: Real People, Imaginary Places
Welcome to the world of the Multi User Domain or MUD for short. These multi-player adventures are very different to the sort of software you buy down your local high-street--so don't let the lack of flash graphics and sonics put you off. These babies are, without a doubt, the most addictive and playable games out there on the Internet. Why, you may ask? Well, because they're truly interactive, truly competitive, and never exactly the same each time you play...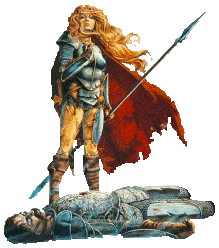 If you're still sceptical about the merits of on-line gaming, though, there's a simple way to explain the advantages. Imagine, if you will, a commercial text-based adventure. Now add genuine intelligence to it (i.e. other characters in the game that actually talk to you properly, and act logically towards achieving their own realistic goals, just like they're real people). It would suddenly become much more involving, wouldn't it? Sure, you can't see anything--but then imagination and visualisation should be doing that job for you anyway, and it's a small price to pay for genuine depth and intelligence.
The secret of course, is that many, if not all, of those other characters you come across are human, sitting at terminals scattered across the world, just like you. They're all playing the game with the same basic goals in mind, but very different ways of trying to achieve them--some will be helpful, others will ignore you, and some will even be malicious and want to see you fail. Just like real life, really. This is what gaming should be about--and this is what gaming is about in MUDs. This is meant as a general guide that introduces you to common MUD concepts.
---
What You Need to Know About MUDs
Glossary of Terms
---
What is a MUD?
A MUD (Multiple User Dimension, Multiple User Dungeon, or Multiple User Dialogue) is a computer program which users can log into and explore. Each user takes control of a computerized persona/avatar/incarnation/character. You can walk around, chat with other characters, explore dangerous monster-infested areas and solve puzzles. You can also get lost or confused if you jump right in, so be sure to read this document before starting.
CONTENTS
---
Different kinds of MUD
There are are different types of MUDs. The most common are the LP family of MUDs, including Diku and AberMUD. They are usually based on roleplaying adventure games; the players on those MUDs tend to run around in groups or alone killing monsters, solving puzzles, and gaining experience in the quest to become a wizard.
Since they were first developed, Aber MUDs have come some way. The version currently run by TerraFirmA is a quite modified Aber variant and takes advantage of the more adventurous aspects of the game and including quite a list of social functions.
The Tiny and Teeny- family of MUDs are social in orientation; the players on those MUDs tend to gather, chat, meet friends, make jokes, and discuss all kinds of things.
There are still other types of MUDs, such as MOOs, UnterMUDs, and so forth. Each type has its own unique style, and players are rarely forced to stick to one type of playing--there's no rule that says an LP MUD must be a combat-oriented MUD, or that a TinyMUSH must not be a combat-oriented MUD. We suggest that you experiment around with several different types of MUDs to see what you find is the most interesting. If there's one thing MUDdom has, it's variety.
CONTENTS
---
Where are MUDs located?
MUDs are run on many fine computers across the world. To play, all you have to do is telnet to the MUD's Internet Protocol Port, and you're in business. Some MUDs have a policy called registration to cut down on abuse of privileges; you might have to send mail to the administrator of the MUD in order to obtain a character. It's important to note that MUDs are not a right, and your access is granted out of trust. People sometimes have to pay to use processing time on the large, expensive computers which MUDs often run on, and you're being given a special deal. Which brings us to another point: MUDs can't really be run on anything less than a largish workstation (currently), so they're usually on academic or corporate workhorse machines.
CONTENTS
---
How do I connect to a MUD?
You can use a telnet program once you find out the MUD's network address and port number. For instance, TerraFirmA is at the network address terrafirma.terra.mud.org at port 2222, so you type:
(on most systems, including UNIX)

telnet terrafirma.terra.mud.org 2222

(or, on some VMS systems)

telnet terrafirma.terra.mud.org/port=2222
To use telnet through a web page link, you must have a telnet client set up as a helper application with your browser. Windows 95 has a rudimentary built-in telnet client called "telnet.exe" under the windows directory, but there are several inexpensive or free telnet clients available on the internet (by doing a software search). A telnet client that supports ANSI colour will allow you to experience MUDs in an entirely different light. A common problem is forgetting to use the PORT NUMBER when telnetting to the MUD's address--be sure to include this when you try to connect.
If you're using straight telnet on a VMS system, you might have to make sure that your terminal has newlines turned on. If it doesn't, the MUD's output will get spewed across the screen in a most ugly fashion.
We are fortunate enough here at TerraFirmA to offer you the ability to connect using ONLY your JAVA-enabled web browser! Try out the TF Java Telnet Applet.
CONTENTS
---
I'm connected. What now?
Once you connect, find out what the deal is with respect to you getting a character. Some MUDs allow you to create your own, and others require you to send off for one via email. Let's say you've now gotten a character, and you're connected up, and things are starting to get interesting. At this point, you should do what is probably least intuitive: type HELP, read the instructions and directions, and understand them. Then, type INFO, read the information, and understand it. Then (yes, we know, we know... it'll be fun, soon!) practice using the commands given to you until you think you've got a good enough grip to be able to start in on exploring, questing, socializing, or whatever else tunes your engine. Many MUDs (including TerraFirmA) provide an introductory area to help get you acquainted with the game, its purposes and its commands. You should take advantage of this opportunity to become familiar with the game on safe terms.
CONTENTS
---
Why not just dive in?
Some people are easily annoyed when other people clearly have no idea what they are doing, even if they were recently in that position themselves. It'll be much easier for you to cope without some fella saying things you don't understand to you and possibly killing you. However, many MUD players are helpful, and asking them, "excuse me, are you busy? I'm a brand new player, and I have a question," will often work just fine.
CONTENTS
---
Choosing a password
You should pick a password just as you would for any computer account. Use a word, or better yet, a phrase or anagram, that isn't obvious. Don't, for instance, use the same name as your character, or your own first name, or your girl/boyfriend's name. And never never use the same password as the one on your computer account. Most MUDs prevent people from getting the passwords from within the MUD, and most encrypt the password when it's stored in the database files. However, there is nothing preventing the MUD's owner from modifying the code to dump the passwords to a file, along with other information such as the host you connected from. Using this information, an evil MUD admin could probably figure out your login name and get into your account easily. It's also not a good idea to use the same password on different MUDs, since if your password gets out on one MUD, all your MUD characters have been compromised. This is especially important for MUD Wizards.
CONTENTS
---
Common commands
Most MUDS have a core of commands which players use to move around and interact with each other. For instance, there are commands for interacting with other players, like SAY, TELL, LOOK, EXAMINE, etc. To move to various rooms this normally entails typing the name of the room or the direction that the room is in. The directions can be abbreviated and so a player can type N to go north.
Check out HELP on the game for a full list of commands.
CONTENTS
---
Obtaining help
Wizards (see the glossary section) are usually helpful; if you know a wizard to be a wizard, then you can usually ask them a question or two. Make sure they're not busy first. Also, players who have been logged on for a long time (which you can check using the USERS or WHO command) are often helpful, as they are usually the veterans who've seen it all before. In combat MUDs, asking relatively high level characters is usually the way to find things out.
CONTENTS
---
Purpose of the MUD
This depends very much on what kind of MUD it is. Aber MUDs involve travelling through lands solving quests along with killing mobiles. As you move, you go from room to room although they may not be described as actual rooms. A room is just a location and can be a hill, an inn, a forest and so on. Entering the room you normally see a description of it along with exits to other places. The description of the room will tell you all about it and perhaps give clues to the quest you are on.
The overall aim of many MUDs is to get as high up the WHO list (levels) as possible and to eventually become a Wizard. Then you'll have the powers to control the game and other players. LEVELS informs you how many different levels there are in the particular MUD and what scores are needed to get up to those levels. To score points that affect your level depends on the MUD in question. On TerraFirmA for example, your level is affected by your bank balance as well as your experience. Experience is gained by solving quests and killing mobiles. Credits are gained through killing mobiles and selling or pitting items. Credits can be deposited to your bank account (your bank balance is automatically updated when you pit valuable items.
CONTENTS
---
What is a quest?
A quest is a puzzle that needs to be solved either by completing a series of tasks or killing some important mobile. You can find out about quests by typing INFO QUESTS or QINFO. These quests are normally located in one area but can involve the player tracking all over the game to solve it. Most quests involve a theme and quite often there is a story associated with them. For example, the Sherwood quest in TerraFirmA involves rescuing Lady Marian. As the player enters the Sherwood area, clues will indicate what is needed from them. Following the clues and dealing with the various mobiles in the zone, the player can build up a solution to the quest.
CONTENTS
---
What is a mobile?
A mobile is a non-playing character. There are usually hundreds of mobiles all over a MUD and these are usually allocated to specific quests or zones. They perform their own tasks and while some will stay in the same place when the game is reset, others will wander about the MUD. Some will ignore players while others will attack them. Many can be ignored or even killed but there are some that are needed for co-operation to complete quests. Mobiles, like players, can carry and wield objects.
Some mobiles are good and others are evil. Killing a good mobile will change the attitude of the player on TerraFirmA, usually making their attitude Nasty or Evil. This has the affect of causing the player to be arrested by policing mobiles who place the player in a jail with a fine in credits. A player can better their attitude by killing an evil mobile.
CONTENTS
---
Glossary of MUD Terms
Newbie
A newbie is someone who has only recently begun to participate in some kind of activity. When we're born, we're all life newbies until we get experience under our belts (or diapers, whatever). You're a clueless newbie until you've got the hang of MUDding, basically.
Lag
The Internet (the network which connects your computer to mine) is made up of thousands of interconnected networks. Between your computer and the computer which houses the MUD, there may be up to 30 gateways and links connecting them over serial lines, high-speed modems, leased lines, satellite uplinks, etc. If one of these gateways or lines crashes, is suddenly overloaded, or gets routing confused, you may notice a long time of lag time between your input and the MUD's reception of that input. Computers which are nearer to the computer running the MUD are less susceptible to netlag. Another source of lag is if the computer which hosts the MUD is overloaded. When lag happens, it is best to just patiently wait for it to pass.
Wizard
Wizards are the people who run the MUD. A TerraFirmA Wizard is also called an "Untouchable". Wizards are very powerful, but they don't have the right to do whatever they want to you; they must still follow their own set of rules, or face the wrath of the higher wizards. Higher wizards can do whatever they want to whomever they want whenever they want--it's their MUD. If you don't like how a Power acts toward the players, your best recourse is to simply stop playing that MUD, and play another.
A more appropriate name for wizards would probably be janitors, since they tend to have to put up with responsibilities and difficulties (for free) that nobody else would be expected to handle. Remember, they're human beings on the other side of the wire! Respect them for their generosity.
Reset
A reset is a rejuvenation of an area of the MUD, so all mobiles and objects are put back to their original positions and quests linked to that area can be done again.
CONTENTS
---

To Guide